trend report
While freelancing at NYC & Company, New York City's official tourism marketing agency, I created this 45 page trend report.
bounceX women's equality day branding
As the Brand Creative Director at BounceX, I developed the logo and all collateral including social assets for a series of events we hosted for the 2019 Women's Equality Day.
logo development & collateral
I worked in-house for Nike Golf where I produced a variety of design projects including branding and deliverables. Here is an example of the Nike Fit logo that I created and implemented which reflected in the three in-store signage samples shown here.
book design
When I worked at David Carson Design, I had the opportunity to work on the layout of his second design book, called 2ndsight. The book also contains over 15 projects that I worked on.
event branding
branding project
While working in the marketing team, we had a range of projects including branding, co-branding, event graphics, and motion graphics. Here is an example of making a long word work with the logo.
speaking event branding
Collateral developed for events would include swag, signage, the website, brochures, etc.
t-shirt design
We were asked to update the company t-shirts on a regular basis.
event branding
When working on an event, we would create the look, the collateral and the brand guidelines to hand off to the printer.
blue magazine
I had the opportunity to work on the outdoor, adventure lifestyle magazine called Blue, for its duration, starting with the premier issue. David Carson designed the first cover, which is shown here, and I art directed the issue.
blue magazine
blue magazine
One of the luckier ad match-ups for a single page article.
blue magazine
blue magazine
When art directing Blue, I would often only have access to a few images for the design of an article. I was constantly working within those constraints to make the stories interesting despite the budget constraints. Here is an example of having only one.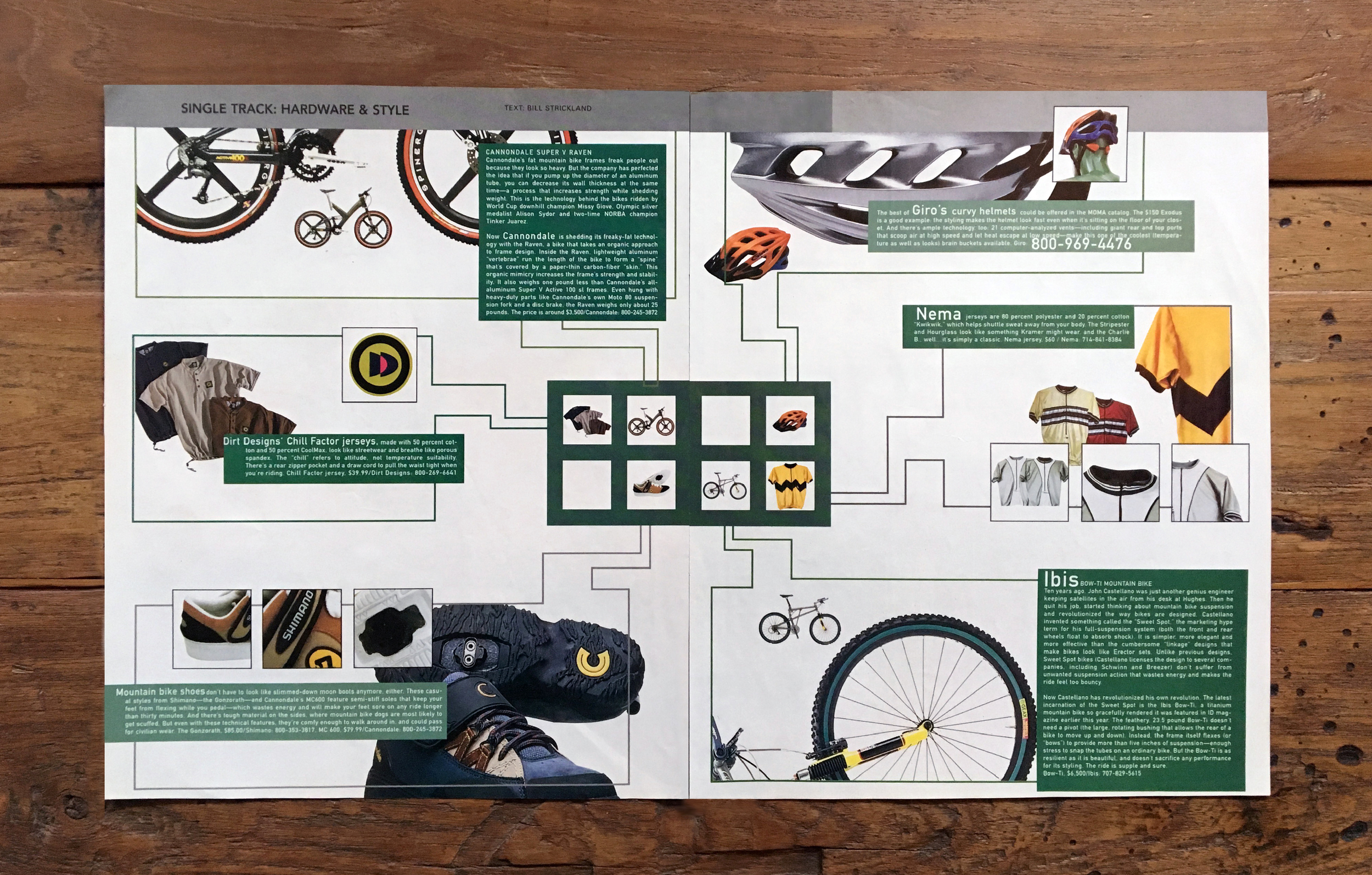 blue magazine
snowboard product catalog
I had the opportunity to work on 2 product catalogs for Xnix, a snowboard company from Japan.
the drift magazine
While working at Future Snowboarding magazine, I had the opportunity to create the look and feel for a new women's specific snowboarding title called The Drift (dream job!). I designed both the logo and first few issues in their entirety..
the drift magazine
Samples of interior pages.
future snowboarding magazine
lane bryant
This "milestone yearbook" was designed while on staff at O.C. Tanner in Salt Lake City. At the launch of each project, my team was given brand guidelines and tasked with producing collateral under the various companies' look and feel. We created a printed piece, a web version and an email campaign for Lane Bryant.
american express
As a Design Manager at O.C. Tanner in Salt Lake City, we worked on corporate awards programs for companies world-wide. Shown here is the look and feel for the yearbook product that was produced for the HR department to give to employees at their year level anniversaries.
pulama lanai
This yearbook was produced while working at O.C. Tanner. It was my goal to provide a look that reflected the essence of the island and the warm leadership of the CEO. Shown here is one of the several covers produced, plus a few interior spreads. An online version was also created.
paragraph identity
I developed the identity and initial layout for this app which was a platform created to help people discover, tell and experience short stories. It was my goal to create a typographic mark that was simple yet memorable.
logo development & branding
With a group in my Harlem neighborhood, a non-profit basketball program was created to provide a safe place for children to go and develop their skills.
branding & posters
A series of 4 posters were created in total. It was my goal to keep the branding simple and bold, yet memorable.
half court academy
logo development
While at David Carson Design, I worked on
the logo for this
beauty product.
coke plus logo development
While working at Ogilvy+Mather, in the Brand Integration Group, I was tasked with the exploration of a logo for a new product launch. Shown here is the exploration process and the final mark.
campus signage
Over 75 parking signs were created for the campus. It was my goal to create a unified, bold and clear series of signs in order to eliminate confusion.
neighborhood banners
For a neighborhood organization, it was my goal to develop banners to reflect the look and feel of the historical & cultural essence of my community in Harlem.
elvis 1 campaign
A campaign was created to celebrate the release of Elvis' 30 number one hits. I worked on a series of collateral including the tour bus which was called Traveling Graceland, showcasing memorabilia from Elvis' history. Shown here are posters for the series of events.
Agency: Cyclops Productions
CD: Thomas Vasquez
Photography: Albert Watson
interior page design
I designed the interior pages of the coffee table book feature the work focusing on las vegas by the photographer, albert watson.